Is your eCommerce store working as it should? Are all the visitors making purchases from your store? If no, your eCommerce store needs improvements.
How can you make your visitors paying customers through your website?
What measures should be taken to gain a paying customer? What makes your visitors think that your website is a go-to site for their online shopping?
Remember, you are not alone in the race. Many other eCommerce businesses are also in the race to get more visitors and leads for their products. Even the most qualified prospects can fall off during the buying process.
But you can make it happen by keeping a few do's and don'ts in mind while encouraging customers to products from your eCommerce website.
The entire process is known as conversion rate optimization that doesn't just happen itself. You have to put significant efforts into achieving the desired results.
eCommerce conversion rate optimization tactics work best when attaining high traffic and quality leads to an eCommerce store.
We will discuss the tricks to optimize E-commerce conversion, but do you have an idea of what is a good conversion rate for an online store?
As per Monetate, the average conversion rate of the eCommerce website is about 2.77 globally.
Take a look at the below survey report, explaining the average rate of conversion rates.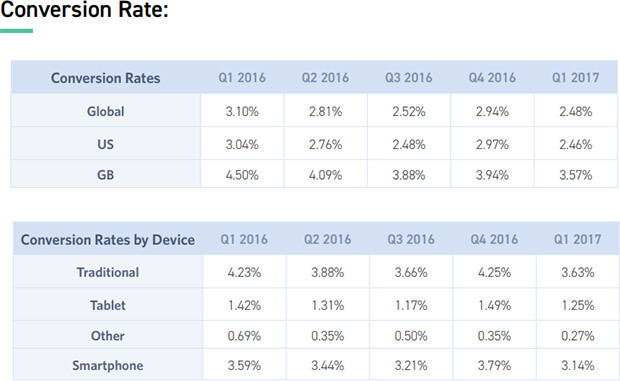 Image Source: optinmonster
The stats are gathered for the years 2016 and 2017. A recent report by Invespro unveiled, the average conversion rates of websites are between 2-3% (investors dotcom) and even more than that if appropriately optimized for different factors.
Therefore, if you want to compete in this competitive digital world, you need to stand out!
Top eCommerce Rate Optimization Tactics
Let's discuss the best and the proven ways that can help you bring the utmost conversion to your E-commerce store.
1. Work on SEO
You must have worked on your website and tried your best hands with SEO. But still, if you aren't doing much business, it's time to rework your SEO strategies.
Since an ecommerce site is still a website, you need to optimize it like any other website to receive better leads and revenue.
Implementing SEO strategies means looking after off-page optimization that includes creating friendly and transparent URLs to land people on the right page when they click on a link. It will work if you integrate the right target keyword without any stuffing to help your products show up when people search.
One of the main issues from an SEO point of view is avoiding duplicate content, which is sometimes tricky when listing the same types of products.
Major SEO experts suggest fixing this by concentrating all the options for a particular product on one page and using canonical URLs to give the main product page the SEO treatment, making your website better.
Getting the crowd to your website gives your ecommerce website a better chance to earn better conversions and revenue for your store.
Hire an SEO team that is aware of implementing ecommerce SEO and know what needs to be done to your website. Once your website starts ranking better on different search engines, you will start getting good conversions.
2. Improve Image quality
Improving image quality is a must. Customers always prefer the website that has an appealing image gallery for all the displayed products.
Good quality images help gain customers' confidence and encourage them to go for the product.
All of the item customers buy have images that show the in-depth view of the product, and mind you; one picture would not do the job; you need to have at least two images of the product.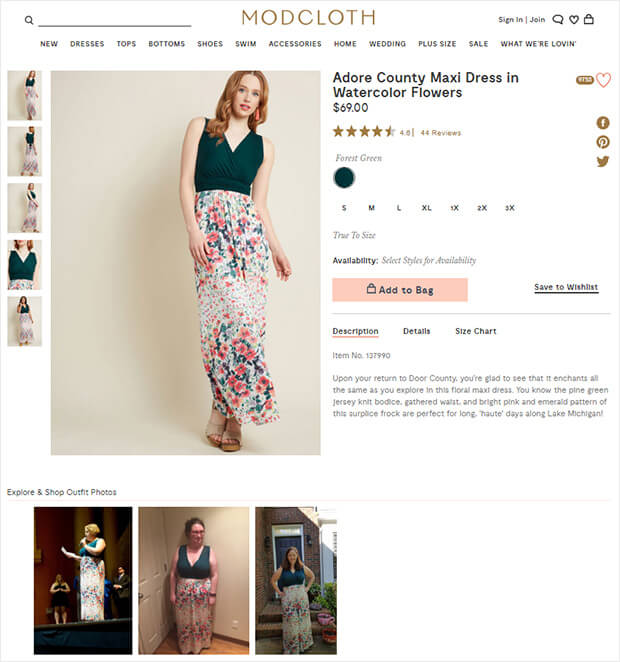 Image Source: optinmonster
As you can see, the product has 4-5 images making the attire more clear and visible and giving buyers the reasons to add it to their cart.
Ecommerce marketplace development believes that having more than 2 images helps the user make the decision faster than a product with 1 image; a video is a much better option.
It's not practically possible to have a high-quality video, but a video with decent quality can do a great job.
And don't forget to reduce the page loading time; the image's quality is only valid until the page loads faster. Faster-loading pages make your customers not to move away from your website.
3. Great Product Copy
Product descriptions matter a lot for ecommerce store optimization. There are two main uses of the product description: to provide information about the product, and the other is for SEO purposes.
The product description may include specific details, including product size, material, shipping details, delivery duration, and many others. Sometimes a product page also contains information like frequently asked questions, user queries, reviews, and answers from the seller.
You can add top ranking keywords to your product description so that the product itself lands on the first page when a user searches for the relevant terms on the search engine.
4. Videos Integration
Videos differ according to the products an ecommerce website is selling. Some websites sell one particular product, and some websites have a whole range of products.
Where should they have the video?
Well, a video can be placed anywhere you think users click and get attracted. Many online stores display product videos along with the images. Once the user is done viewing all the images, there is a short video range from 3 to 10 seconds, explaining everything about the offered product.
For example, the page has a product video of slippers worn by a model, demonstrating how the pair of slippers look on a girl's feet.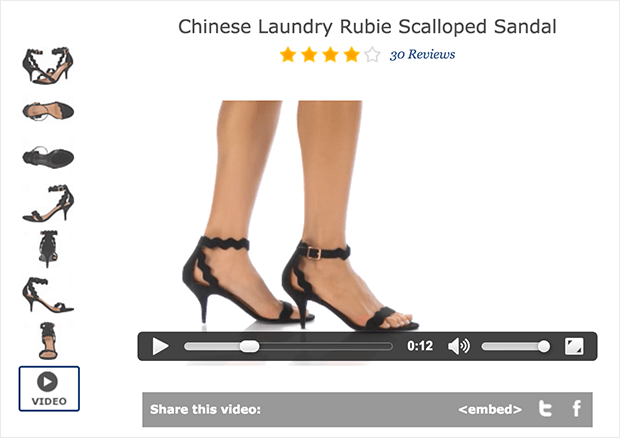 Image Source: optinmonster
Other types of videos are for websites that mainly sell fewer products. They post an in-depth video of the product presenting the product's functionalities and live demonstrations.
5. Customization creates interest
What else is required when you get the chance to customize the product as per your preferences? Many ecommerce stores have this facility that allows customers to make swift changes to make it worthy of their purchase.
The magic with customization is, once the user starts playing with the customization options, they feel that the product is specifically made for them and gives positive vibes to go for the purchase.
But not all websites could do this. The feature is available with only a few websites that make their products.
Keep the product customization option open if you are one of those sites and want to grow your customer base.
6. Charging for shipping is a NO-NO
Customers don't like surprises, especially when it comes to costing and hefty shipping charges. A study revealed that around 60% of people abandon carts because they find it non-relevant to pay extra for product delivery.
If you have products that cost lesser than the shipping itself, you need to develop strategies like asking your users to buy a minimum amount of products, which will make them eligible for free shipping.
Mentioning that you have free shipping is vital as it motivates and eliminates the worry of the customer to pay for shipping. If you are charging product delivery charges, give them an option to avail free product shipping facility. The strategy makes ecommerce sales stronger.
Major eCommerce brands like Amazon and Flipkart follow the free shipping strategy to keep customers retained and satisfied. You can also embrace the same get higher conversion rates for your online store.
Still, if you need to charge your customer, never surprise them before payment, mention your shipping costs upfront and keep it transparent.
Transparency helps your store from the wrath of abandoning carts, and it gives you some loyal customer base.
7. Separate tab for Sales, for Offers, and Clearance Items

Who doesn't love buying products on sale?
Everyone looks for products that are on sale, even on a non-season. And there is no surprise that customers would go for this tab before checking other tabs on your  website.
Keep the Sale or Offers or Clearance tab appealing and visible to make it stand out on your website.
Since you are into business, you know what products would be on sale. You can display them with all the added advantages that buyers can have. Try incorporating after-sales and product return policies in the same tab. It helps customers making their buying decisions clear and quick.
8. Keep a tab on abandoned carts
One of the most powerful strategies that are forgotten by ecommerce marketplace development is the abandoned carts.
People abandon carts for many reasons, and most of the reasons have nothing to do with the website or the products, which means you can still make the transaction possible.
Following up on the abandoned carts has a conversion rate of 35%, which is huge. You can do this by implementing a combination of site optimization, checkout process improvements, and creating better product copies.
Follow up, send them notifications on the associated website or app using the registered email ID or the phone number.
Also, try to find out the reason for cart abandonment by sending them a feedback form. This helps you eliminate the mistakes you made (if any).
Take a glimpse at the below image to know the reasons for cart abandonment.
Image Source: https://baymard.com/lists/cart-abandonment-rate
9. Stubborn Shopping cart
People compare different online stores to shop. It is a general human tendency as people add products to cart and make it easy for them to buy quickly when they return later.
By doing so, customers save their time to search for the same product again. But if they find that the shopping cart's content has expired, they won't start from scratch.
The solution to this is stubborn shopping carts is to implement a persistent cookie. This shopping cart will be right there even a day or a week later and provide shoppers with a seamless and quick shopping experience.
An alternative to this is saving the shopping cart content, so the user can retrieve it later after they've done with comparison shopping.
Giving the option to send the cart content to email is a smart way of staying on the shopper's mind.
10. Be available via Live Chat
Even after a description which would answer all the questions, there could be other things which people would like to know regarding a particular product. The queries can be anything from silly questions to shipping queries, which they don't find satisfied or lazy to read from the content.
So providing a live chat or contact information for their support is essential. It builds a strong customer base as you satisfy both pre-sales or after-sales queries of the customers.
Having a live chat option helps customers make decisions instantly that ultimately offers you qualified leads and conversions.
You may be a start-up and may not be available 24×7. But try to be online when you are working and mention the timings you would be available and when you cannot answer their queries. This guides them where and how they can contact you instead.
Even if it is automated, Leaving a response email works best to establish trusted connections with the buyers.
11. Clearcheckout progress indicators
People are more likely to get attracted to the websites that offer a progress bar indicating where you are left to be done to checkout.
It's the best trick to make the customers glued to your website until the product checkout. You can also implement the progress bar to your website to make it more convenient for users to make purchases.
12. Payment options
We are way past the age of cash exchange, and there are multiple ways to make transactions other than just the usual credit card and debit cards.
A user could have a range of payment he could make. So, limiting your payment methods may lead you to lose sales opportunities.
You can integrate several plugins on your website to offer a variety of uninterrupted payment methods to your target customers.
Options like e-wallets, coupons, Cash on delivery, and many other options can work better. But here, you need to choose a few payment gateways like Credit Cards, Debit Cards, Paypal, etc. to facilitate customers with secure product payments.
See how mobile payments have transformed the way of making payments on shopping websites.
Image Source: https://www.bigcommerce.com/blog/apple-pay-tips-mobile-payments/
13. Search options and Filters
Search filters are crucial for an ecommerce store as it helps users find the right product and navigate them through the relevant ones they may like.
When a user is searching for a product, it shouldn't be a hassle. To make the website UX seamless, you need to optimize your products with the keywords. Categorizing the product pages can also do wonders in getting the right products displayed on the right page and for the right keyword.
Filters and Sorting are the significant aspects that you can integrate to make site search better for users.
Filters may include:
Brand
Price range
Size
Colour
Deals
Shipping deals
Sorting may include:
Price high to low
Price low to high
Size
Alphabetical order
Hassle-free searching would get you qualified purchase and, most probably, retained customers.
14. Login and Account creation
Help the users create their accounts in just a click by giving the option to sign in through their social media accounts. A few would like to do it traditionally, but most of them do not prefer registering with the ecommerce site following the lengthy process.
Provide registration through major social networking sites like Facebook or Google. Everyone has accounts in one of these.
After the account creation, you need to make sure that you help them log in through the same process and not make it a mess for them.
Making users creating accounts will be useful in creating a strong customer base. It also helps you communicate directly through sending emails, SMS, or push notifications on their registered email ids and phone numbers.
15. Don't copy Amazon's brand information — and don't copy any other giants
brand
Copying a concept is a different thing and copying everything is different. Don't exactly do what big brands are doing; instead, be smart and implement a few tactics that can help you bring more customers to your site.
You can learn things from them and present them differently, which seems unique and quite impressive to your clients.
Consult the best ecommerce development company near you, they don't just build ecommerce websites, but they also suggest what you should do to earn more leads and conversions.
Are you ready to improve the conversion rate of your eCommerce website?
You can start simply by taking minor initiatives like increasing the site speed and improving the image quality. Following all the described strategies are proven and are adopted by many businesses to bring an overall increase in conversion rates.
Apart from the mentioned ones, there are many other ways that you can implement to improve your website conversion rates. You only need to act smart by keeping a keen eye on the latest industry trends!
Get ready and start implementing the strategies you think would work best for your brand.
The post 15 eCommerce Conversion Rate Optimization Tips to Skyrocket Your Sales appeared first on ReadWrite.